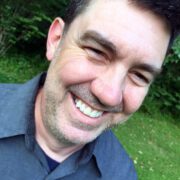 Stephen Patrick Anderson is an independent artist residing in the Lehigh Valley area of Pennsylvania, with his wife Debbie and their two children, on a rural hideaway homestead. Stephen has been producing and selling his music and artwork for the past 35 years – the length of time he's lived in PA.
Most recently, Stephen has become enthused with traditional bowhunting and has begun producing some of his own primitive archery equipment and taxidermy, which he intends to integrate with his other artistic pursuits.
Recent paintings are currently on display at the Modern Visual Arts Gallery in Bethlehem, PA.